Metamask is by far the most popular Blockchain wallet used to store crypto and connect to decentralized Applications. understanding how to set up Metamask wallet, though, might be confusing.
By the end of this article, you will learn how to install Metamask the right way, create a new account, and how to use Metamask wallet to send and receive crypto or interact with your favorite Web3 applications.
Let's stop talking and deep dive into how to set up a Metamask wallet.
How to set up Metamask?
MetaMask was created by ConsenSys, and is a free online wallet that allows users to store and manage account keys, broadcast transactions, send and receive cryptocurrencies and tokens on chains like Ethereum or Polygon, and securely connect to decentralized applications through a compatible web browser.
Think of Metamask as your portal to enter Web3. The wallet has over 21 million monthly users as of 2022, making it one of the most popular wallets in the world.
By connecting Metamask to Blockchain-based Decentralized applications (DApps), users can spend and collect coins in games, stake tokens in Decentralized finance (DeFi) applications, and trade them on decentralized exchanges, and pools.

The Metamask wallet also provides users with an entry point into the emerging world of Web3, constituting, de facto, universal signup and identity.
As with anything, there are pros and cons to using Metamask.
Pros:
Popularity, and compatibility with most dapps and websites you will need to use in Web3.
Intuitive User Interface and User Experience.
Cons:
Being an online wallet, it is more vulnerable to hacks. In case your device gets breached, there is a chance hackers may be able to steal your cryptocurrency.
Now that you are caught up with the basic information, let's continue our Web3 journey with our step-by-step guide on how to create a Metamask wallet.
Set up MetaMask on Chrome
Learning how to set up your Metamask wallet is a kids' game. First of all, browse to the Metamask extension landing page – metamask.io and click on download:
This will redirect you to the Google chrome extensions Metamask page – You'll just need to click on "Add to Chrome":

This will install the Metamask wallet in your browser.
Next, to learn how to set up Metamask wallet we'll need to create a new account.
---
How to Set up MetaMask Wallet – Signup
Once installed, clicking on the Metamask extension icon will redirect you to the wallet setup page where you'll be able to create a new Metamask wallet:
Clicking on "Get Started", will let you choose to import an already existing wallet, using a mnemonic (a 12-words phrase) or to create a new Metamask wallet. Click on Create a wallet: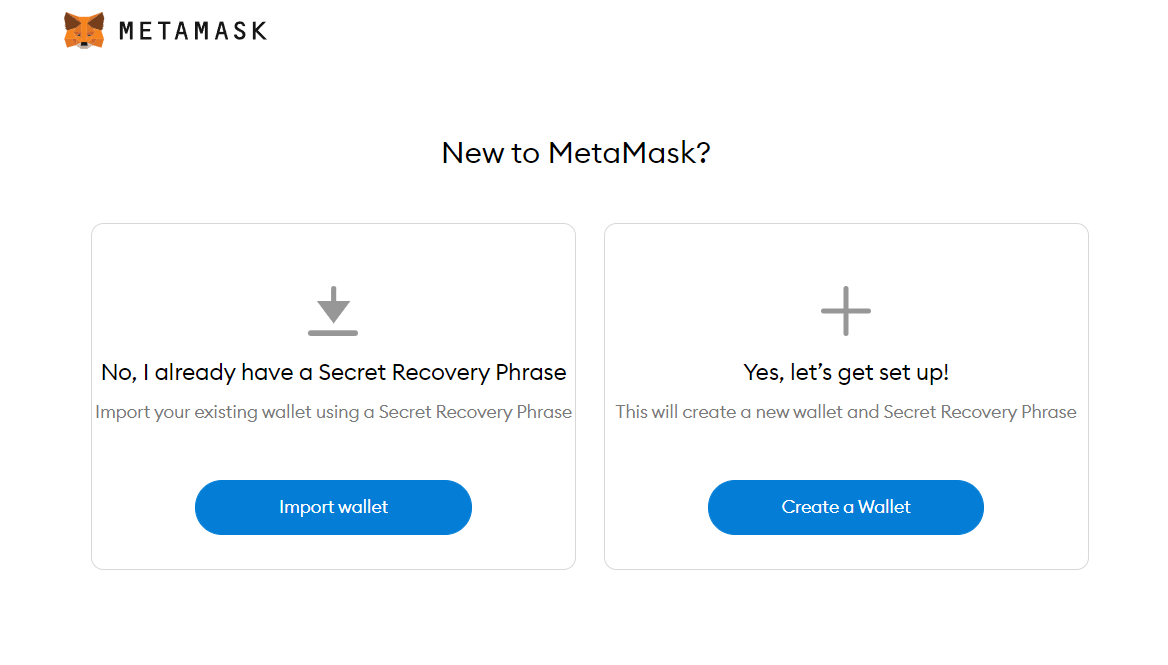 At this point, you'll need to create a new password and accept MetaMask's terms of service.
The password will only be responsible for securing your MetaMask extension on that device, and not your wallets. Anyway, make sure to not share your password with anyone.
Once you'll have confirmed your password, MetaMask will show you your Secret Recovery Phrase, a list of 12 words used to access your wallet. The Secret Recovery Phrase is also called Seed Phrase or Mnemonic, you can read more about how mnemonics work in this article.
How to Set up MetaMask Wallet – Save and Confirm Your Seed Phrase
MetaMask requires you to store the seed phrase in a safe place. This will be the only way to recover your funds from a new device, browser, or should MetaMask reset. The most common method used to store the seed phrase is to write your 12-word phrase on a piece of paper and store it in a safe place.
It's very very important that you:
Do not share your Secret Recovery Phrase with anyone, as this will give full access to your wallet.
Save the phrase in a secure place.
Note: if you lose your seed phrase, MetaMask can't help you recover your wallet and your funds will be lost forever.
With this in mind, copy the Secret Recovery Phrase in a secure place, and click Next.
Metamask will now ask you to copy the Secret Recovery Phrase, to confirm you've actually saved it:
Congratulations! 🎉 You've just learned how to set up Metamask, and are now ready to receive and send crypto, as well as interact with decentralized applications.
What Other Crypto Wallets Are Available?
While Metamask is an amazing wallet, the industry is full of alternatives that are worth exploring. As we said earlier, wallets are separated into hot wallets, which are online, and cold wallets, which are physical. Cold wallets are good because they provide more security. Hot wallets are great for daily usage because are easily accessible.
Some of the best Metamask Alternatives are:
xNFTs Backpack: Backpack is a cross-chain wallet that allows you to interact with cryptocurrencies and DApps both on Ethereum-based chains and Solana. It also supports xNFTs an executable code of a Web3 application that inherits the ownership qualities of an NFT.
Ledger Nano S: Ledger is a cold wallet, meaning that it can be only accessed by having a physical object, which resembles a USB key. This wallet connects to your device via USB or Bluetooth, and stores your private key offline.