As a developer, having a blog is one of the best investments you can make, but where to start?

In this post, I'll share with you a list of what I've found to be the best blogging platforms for developers in 2021.
Tech Blogs are not only a great way to share your knowledge and build an online presence but also one of the best ways to get hired, find customers, or generate a side income.
If you don't like writing, you can always make money and build an online presence, contributing to open-source projects.
Maintaining a blog, though, can rapidly become annoying if not done with the proper tools, organization, and choosing a blogging platform that's easy to maintain and fast to update.
I've personally tested more than 10 platforms, and thoroughly reviewed them based on:
User Experience.
Reader Experience.
Search Engine Optimization (SEO).
Community.
Ease of monetization.
Maintainability.
Without further ado, let's dig straight into the best blogging platforms for developers.
---
Dev.to – A Beginner-Friendly Blogging Platforms For Developers
Born in 2016, Dev.to is a platform specifically made for developers that makes it super easy to set up a blog and start sharing your tech knowledge.
The best part of Dev.to is its community of 10s of thousands of developers. Every time you'll publish a new article, this will be shown on the home page feeds, just like socials do, where the community will be able to interact with it, giving you some extra visibility.
Another feature that made me choose to put this platform in the best blogging platforms for developers list, is its SEO Optimization, simply amazing. One time out of 3, when I'm looking for some development-related article, their website appears within the first 3 Google results.

Last but not least, Dev.to social presence is massive, and it's not rare to see your articles featured on their pages, giving you even more visibility.

Of course, this platform comes with a couple of downsides like:
You won't be able to use any custom domain,
Personalization is very scarce, leaving you unable to properly optimize your Blog experience.

Last but not least, Dev.to analytics aren't very helpful, not giving any kind of insights about your readers.

Although this shouldn't be an issue if you are just starting out, the inability to personalize the user experience, optimize it towards your conversion goals, the absence of a custom domain or proper analytics, could stop more experienced or professional bloggers from using Dev.to.
Other than that, this is one of the best blogging platforms for developers that are just starting out their tech writing journey.

Let's recap the pros and cons of Dev.to.
PROS:
Easy to set up and use.
Gigantic community of developers.
Strong social presence.
Amazing SEO Optimization.

CONS:
Low to no personalizaton.
No custom domain.
Lacks of proper analytics.
---
Hashnode – The Best Community For Dev Writers
Hashnode is probably the youngest member of the best blogging platforms for developers but they're already doing great.

It has been specifically created for the Tech community, mainly designers and developers that want to start blogging. With a great and active community, they make it super easy to set up and personalize your blog.
The thing I love the most about this platform is the ability to personalize pretty much everything you want about your blog.

Users can use a custom domain instead of the default one, and setting this up is a matter of seconds.

Hashnode provides the best UI personalization features of all the blogging platforms listed here. From the color palette to the font, from the dark mode to full control over your CSS.
Users also have the possibility to handle their newsletter through the platform itself, positioning a small subscription box on their homepage, and sending updates to the users whenever a new article is published.
Last but not least, Hashnode's community is amazing, they periodically run Hackathons and reward users based on their on-platform performances.
Of course, Hashnode comes with some downside as well.

First of all, analytics are not meaningful enough to give you real insights into your audience.

Second, you're not the owner of your blog, and even if this is a common problem to 4/5 of the platforms listed here, it's still a problem. You can't implement features whenever you'll need those, and you can be potentially kicked out of the platform at any time.
Now, if you are just starting out your blogging journey, not being the only owner of your blog shouldn't be an issue, but as soon as you'll start getting more visibility you will probably want to address this issue.
Let's take a look at the pros and cons of Hashnode.
Pros:
Vast community.
Great personalization settings + CSS.
Custom Domain.
Join hackathons to monetize your posts.
Cons:
Not your platform.
Unable to add features or third parties plug-ins.
Low UX personalization features.
---
Medium – The Generalist Blogging Platform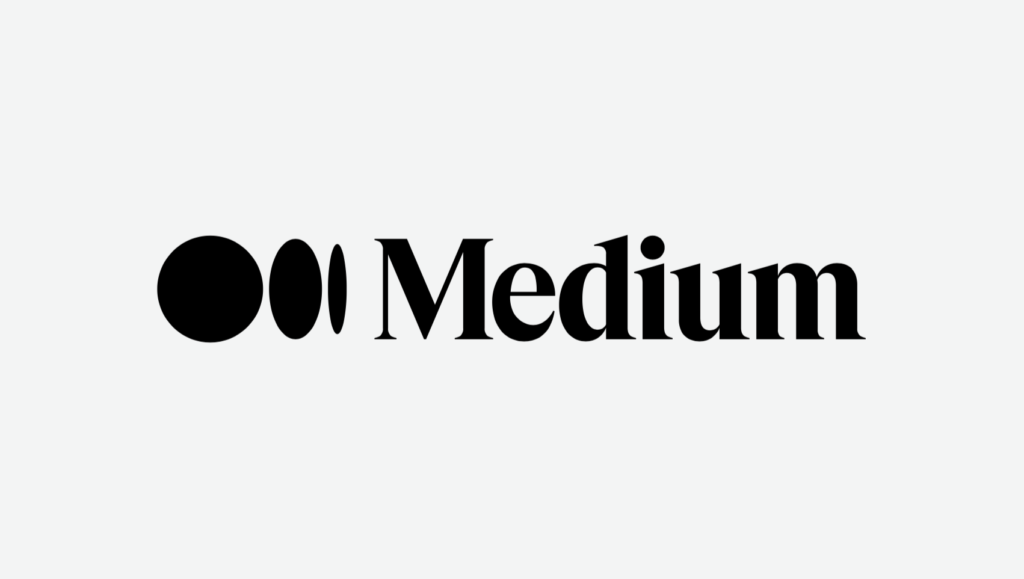 Medium is the first platform of this list that hasn't been built specifically for developers, but this is far from being a downside.

A blogging platform built by one of the Twitter founders, that has become increasingly popular over the years for its ease of use, and adoption by some of the biggest publications out there.
Setting up a blog on Medium is as easy as pushing a couple of buttons. You'll have access to a good amount of personalization, and their Text Editor (WordPress-like) is a real game-changer.
What mainly differentiates Medium from all the other blogging platforms for developers in this list, are:
Publications,
Monetization.
Publications are domain-specific organizations where everyone, after being accepted, can publish their content. This will dramatically raise your reader count, putting your content in front of both your and the publication followers.
Every publication on Medium will have different parameters and rules that you will have to meet to be accepted. Some will ask for domain-specific articles such as "JavaScript" or "Open Source", others will put more strict rules on how and what you should write about.
Another Medium feature, that's been widely adopted, is premium posts. You'll essentially be able to put some of your articles behind a paywall, making them accessible only to Medium premium members and making money out of their reading time.

Now, although there are devs making a living out of just Medium articles, this is not easy to accomplish, and I prefer other monetization strategies. Amount paid is not completely transparent, and paywalls are also considered annoying for a good share of users, that's why for some, Medium monetization is considered a Con more than a Pro.
Medium, like all the other blogging platforms for developers, comes with multiple cons, such as the absence of any kind of custom domain, or UI/UX personalization. Here like on Hashnode and Dev.to, you won't own the platform or the user base and you'll have to accept and behave under the Terms of Services.

Personalization settings are also pretty limited, but better than other platforms we reviewed.

Let's make a summary of the pros
Pros:
Great Community
Publications will bring thousands of users
Large outreach also outside the dev community
Monetization / Paywalls
Cons:
Monetization / Paywalls
Lack of personalization settings
No custom domain
---
Hosted Blog – The Best Blogging Platform For Developers
This is by far my favorite choice when it comes to starting a blog, although is better suited for experienced content creators, or very driven/passionate developers joining the blogging world.
Having your blog will not only give you full freedom over your content, user experience, personalization, conversions, and features but will also grant full control over your reader's data and experience.

You'll be able, to use your domain, send emails, tweak your UI and UX to better suit your conversion needs, and be the sole owner of your content and data.
As we said earlier though, maintaining a blog and consistently publishing articles is a huge effort, having a proprietary platform that requires a lot of time to be maintained, makes this effort even bigger. That's why your tech stack should be as lean as possible.

My go-to techs when it comes to building a personal blog are:
WordPress.
Elementor.
RankMath.
WordPress – CMS and blogging
WordPress is an amazing Open Source CMS, that's very easy to use and allows you to set up a blog in 5 minutes.
Elementor – Styling
Elementor is a drag and drop builder that's installed on WordPress as a plugin. It gives complete personalization freedom and a great set of pre-built components for your website.
RankMath – SEO
RankMath is probably the best SEO WordPress Plugin on the market. It helps me optimize my articles, keep track of my views, conversions, and keywords.
Feel free to use the stack you like the most, but remember to keep it simple enough to give you the time to actually write the articles.
Of course, having a hosted blog comes with downsides, such as the costs associated with the domain, the hosting service, and the time needed to set up each feature you will need (analytics, subscription services, etc).
Another downside of owning your blog is connected to the visibility of your content. In other platforms such as Hasnode, Dev.to, and Medium publications, your articles are shared with the community, giving them some visibility and initial traction.
On the other hand, your blog won't get any kind of visibility if you don't promote with SEO and build an audience.
Other than the initial costs, and the extra efforts required to make your articles visible: having an owned blog will allow you to scale your business way more than any other blogging platform for developers, giving you full control over your audience experience, and complete freedom over the look and feel of your online showcase.
Let's briefly review the pros and cons of self-hosting a blog for developers.
Pros:
Complete freedom over your user experience
Optimized towards conversions
Unlimited Designs
Custom Domain
Access to your readers' data to better understand their needs
SEO Optimization
Cons:
Time-consuming
You need to take care of SEO
Less visibility if not promoted
Initial costs
Conclusion
These are the solutions I've found to be the best blogging platforms for developers. You can choose one and then change when your needs change, or you can pick all, and cross-post your content across multiple platforms.
For example, I use Zapier to automate my posts on Medium and Dev.to:
I post a new article on my WordPress website.
Zapier kicks in and drafts the article on both Medium and Dev.to
I publish on both platforms making sure the Rel canonical is added.
Thank you so much for making it so far! I hope this list has helped you find the platform that best suits your developer's needs!
Have a question? Leave a comment.